Learn a skill to repay her kindness
Having spent so many years in unfree cells, inmates cannot help but question their own worth. Ah Xin (pseudonym) met her boyfriend who was addicted to drugs when she was young, so she risked her life to sell drugs for her boyfriend. When she was in her teens, she was sentenced to prison for the first time for drug trafficking. Sentenced to more than nine years in prison. During her sentence, Ah Xin decided to enroll in a pet grooming course. Ah Xin, who is in her thirties, has a delicate face and a pair of skillful hands when grooming and dressing the dog. She was only 19 years old when she was imprisoned, but she didn't know how high she was after she was released from prison and actually "returned to her old business", and was finally sentenced to more than nine years in prison for drug trafficking when she was in her twenties. "Come and visit me." Her mother's love made Ah Xin understand that she was not alone in her journey, and her seemingly endless life in prison made her feel confused, "I struggled at the beginning, I felt I was in my thirties, and I needed to live again. It's so difficult!" With the support of social workers, Ah Xin took a pet grooming vocational training course during her sentence, hoping to be self-reliant. "I want to use action to thank Mommy for her love. "Rehabilitated people are most worried that their past will become a stain on their lives and will not be accepted by society. One of them, Diana, who signed up to be a "Caring Employer" and one of the pet grooming theory course instructors, believes that the society's demand for pet groomers is increasing day by day. After completing the course, inmates will be accredited and able to meet market demand. When she was a first-time tutor, Diana was worried that the students would be "disobedient", but she was overjoyed. "They (students) are very disciplined. They are very active in answering questions in class, and they are even more attentive than the students who come forward." Diana revealed that there are employers in the industry who will Priority is given to hiring rehabilitated persons who have completed the course. "So far, I have asked two to three trainees to work for me. Many trainees are working with friends or even self-employed." People will always make mistakes, and there should be opportunities for rehab, and rehabilitated people are no exception.
Introduction of Mo City Pet Sitter
December 13, 2019
【Mo City】
Source :  Mo City  13/12/2019 https://m.facebook.com/story.php?story_fbid=3209713279044662&id=1385524588130216
TVB Scoop Pet Ambulance Introduction
Source : TVB Scoop 9/06/2019
Female prisoner learns pet grooming
Source : On cc Dongwang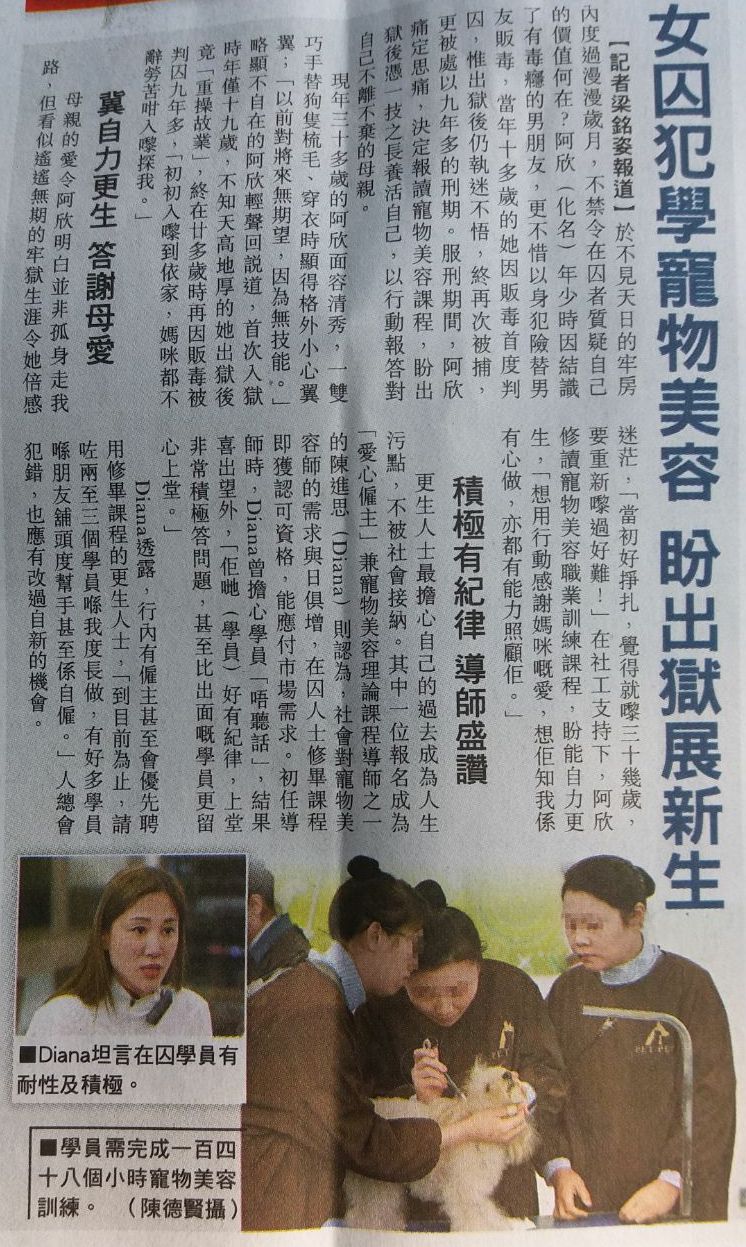 Correctional Services Department launched pet grooming course three years ago
[Now News Channel] Many Hong Kong people like to dress up their pets. The Correctional Services Department started to provide pet grooming courses for inmates three years ago, hoping that they will be able to re-enter the workplace more easily after their release.
It's not the pet groomer who helps the puppy look so beautiful, but a group of inmates who are taking the pet grooming and shop assistant certificate course at Lo Wu Correctional Institution.
The Correctional Services Department has been running courses since 2015 to help inmates learn a skill and become a professional pet groomer in more than 140 hours of courses.
32-year-old Ah Xin (pseudonym) has been sentenced to prison four times for taking dangerous drugs. In 2013, he was sentenced to nine years in prison for trafficking in dangerous drugs. Even so, Ah Xin's mother still sticks to her, which makes Ah Xin determined to change.
Inmates also need opportunities from their employers if they want to be reborn. Chan Chun Sze, who owns a pet grooming shop, has taught here before and found that the trainees are patient and hardworking, so he decided to hire a rehabilitated person.
A total of 98 graduates have graduated from the course so far, some of whom have joined the pet grooming industry, and some have been transferred to pet clinic nurses.
In the pet grooming course, in addition to caring employers lending beautiful dogs to trainees, half of the dogs are from dog farms waiting to be adopted. In addition to training skills, trainees can also dress them up and find a master who likes them.
Source: Now News 17/02/2018
Post-90s college students start their own business as pet sitter and take care of furry children for a fee [there is a film]
Many people love pets, and the demand for pet services continues to increase. The two post-90s people are targeting the pet market. Combining their interests and careers, they become pet sitters to take care of furry children. The founder said that customers requesting temporary care services are not only because of travel or business trips, but also because many office workers have no time to take care of them regularly and need the help of pet sitters. After more than a year of business, the team has increased from 2 to 10 people. In the future, it plans to join the door-to-door dog training service to help owners conduct behavior training for dogs at home.
23-year-old Angela Chow and 26-year-old Sam Ka-chu (Sam) graduated from PolyU and HKBU respectively in business administration. In order not to harm animals, Angela, who is slender, has been a vegetarian since she was a child. among the only vegetarians". During her studies, she worked as a pet groomer, dog handler, etc. She said frankly: "I never thought about starting a business, but I plan to find a job related to pets after graduation." On the other hand, "Cat Slave" Sam has an entrepreneurial spirit. Seeing that the pet market is huge, he hopes to combine his interests with his career. Angela has a cat and a dog at home, and she is also the owner. She said that when the pet is sick, if the owner wants to go out, the most worry is to put it in the pet hotel, and the door-to-door care service becomes the way out.
Pet Sitting Diary (professional pet sitter in Hong Kong) was established at the end of 2016. They did not open a store, they work from home on weekdays, and the cost of starting a business has dropped to a few thousand yuan. To improve her professionalism, Angela has obtained the qualification of registered professional pet sitter. The assessment includes helping cats to submerge their skins and helping dogs to brush their teeth. The company has also obtained memberships of Professional United Pet Sitters, Pet Sitters International and other institutions.
As a pet sitter, I work to take care of the daily life of furry children, including feeding, cleaning, walking, etc. The service is charged on an hourly basis, and the care of general small animals (such as birds) starts from 160 yuan for half an hour, and takes a dog for a walk from 220 yuan per hour, the overnight pet care charge starts from 600 yuan.
From 160 yuan for half an hour
They start to provide services from neighbors and friends and continue to improve the services in the process. For example, they meet the owners in advance to learn about the characteristics of pets, care skills and the required care work; they provide camera rental services so that the owners can see their work conditions; Take photos to reflect the pet's condition, such as urine condition, and cooperate with veterinarians who provide door-to-door diagnosis and treatment. If your pet has physical problems, you can seek medical assistance.
Sam pointed out that not only do owners need pet custody when they go on a trip, but some busy owners also seek their help, such as taking their dogs out to defecate on weekdays, or regularly dipping their cats into the water. These frequent visitors have accounted for 30% of the customer base.
In the process of taking care of them, they found that many owners dote on the puppy and do not know how to establish a relationship with the puppy, so they are not respected: "For example, when walking on the street, the dog will grab the rope, walk faster than the owner, and even lead the direction of the road. Therefore, they are planning to increase the door-to-door one-on-one dog training service.
The pet sitter team has increased from 2 to 10 people. The company currently relies on online advertising and word-of-mouth promotion. Angela revealed that during the peak season, she receives 30 to 40 businesses per month, and the monthly profit reaches 5 figures. Although they don't earn much, the two joked that they could retain their freedom: "Sometimes if you want to earn more, you will take more work, and if you want to rest, you will reduce it!"
Pet Sitting Diary has come into contact with pets that need to be cared for, most of them are cats and dogs, but Sam and Angela bluntly said that once customers asked to take care of alternative pets, such as lizards, flying squirrels, etc. In addition to asking the owner for the care details, they also had to "do their homework". They look online for relevant information, or even ask a veterinarian for caring tips.
Sam pointed out that he once helped a client take care of the cat, and then the other party asked him to take care of another lizard. Since he has never taken care of a lizard, he not only asked the owner for the details of the care, but also looked for relevant information online.
Cats often vomit or have kidney problems
In fact, the owner may ignore the pet's symptoms when caring for the animal. For example, Sam pointed out that if a cat vomits frequently, it may indicate that there is something wrong with the kidneys; sometimes the pet suddenly becomes less active, and the owner may think it is related to the heat, but it may also be a sign of illness: "We always take care of it for a short time, and usually tell the owner about the condition, it is up to them to decide whether they need to see a doctor after all."
The Agriculture, Fisheries and Conservation Department released the "Consulting Study Report on the Professional Development of Veterinary Medicine in Hong Kong" last year. It is estimated that there were 681,600 pets in Hong Kong in 2016, of which more than 70% were cats and dogs, or about 510,000. Pet services have sprung up, and owners are more and more willing to spend money on animals, creating markets such as pet hotels and pet grooming.
Source: Hong Kong Economic Times 01/06/2018
https://topick.hket.com/article/2085405/90後大學生創業當寵物保姆%E3%80%80上門收費照顧毛孩【有片】
Huge and rapidly growing pet market
Pet theory: rising ownership in Hong Kong opens up a host of retail opportunities
Booming pet economy has also brought opportunities and insights to various property sectors in the city
In Hong Kong, more families are welcoming pets into their homes with about 289 000 households keeping pets in 2015-16. A study commissioned by the Veterinary Surgeons Board of Hong Kong last year and previous thematic reports by the Census and Statistics Department, showed that pet ownership has undergone exponential growth over the last decade, rising 72 per cent from 297,100 dogs and cats in 2005/6 to 510,600 in 2015/16. It is expected to reach 545,600 in 2019.
Pet ownership is the highest among the more affluent families, with 11.1 per cent of the households earning HK$40,000 (US$5,112) or above owning dogs and 6.5 per cent of these households owning cats, according to a study from 2011.
Today's devoted pet owners spend a lot of dough on their furry kids, spoiling them with luxury products and services, as consumption patterns have become increasingly "humanised and premiumised". According to Statistia, revenue in Hong Kong's pet food segment is expected to reach about HK$1.1 billion in 2018 and is expected to grow at a compound annual growth rate of 5.9 per cent between 2018 and 2021.
From a real estate perspective, the booming pet economy has also brought opportunities and insights to various property sectors in the city.
The expansion of pet shops and suppliers has been notable. For instance, Pet line opened six new retail locations over the last 12 months. Many pet shops have also used omni-channels to reach a wider and diverse customer base.
Meanwhile, there is a trend for pet-related businesses to open bigger outlets – 1,000 square feet or above – to extend healthier choices and lifestyles into pet care, such as high-end pet grooming, pet spa and Doga (yoga for dogs) to capitalise on the shift in pet owner behaviour and preferences.
As the pet community puts emphasis on adopting pets instead of buying, and increasing health awareness of pet owners, the population of older pets is expected to rise. With more households owning older pets, requirements for medical care because of age-related conditions are expected to increase.
On top of the mainstream pet hydrotherapy, physiotherapy, acupuncture and rehabilitation centres, the pet care trend is moving towards specialisation, such as elderly pet care centres, focusing on extending life expectancy and improving quality of life.
Business opportunities brought about by the thriving pet economy has also extended to traditional retailers, similar to fashion brands bringing in secondary product lines for kids. For example, Ikea has recently launched Ikea Lurvig in the US, Canada, France, Japan and Taiwan, selling a range of products designed for four-legged family members.
Only a few shopping centres in Hong Kong set themselves apart from the rest by allowing pets. To balance the interests of both pet-lovers and those shoppers who dislike pets, most malls impose some sort of restriction (for example, pets are only allowed if they are carried by their owners). In terms of tenant mix, most shopping centres only accept pet related businesses selling pet products. Now that shoppers are looking for more experiential elements in their shopping trips, landlords could consider introducing tenants involved in pet-related services given the growth potential of this niche market.
On a separate note, unconventional office landlords, co-working space operators or companies can explore the viability of pet-friendly workplace to capitalise on the expanding pet market. While bringing animals to the workplace has its own challenges, a workplace that is pet-friendly also has its share of benefits, such as relieving stress of employees, promoting positive interactions and improving company image.
Key drivers for a booming pet economy
Changing demographics: Decreasing birth rates in recent years and the tendency of late marriage have seen a shift in the city's demographics; many couples have sought companionship by welcoming four-legged friends to their homes. Meanwhile, the increasing share of elderly population and the loneliness that comes with the advancing years have led many seniors to be emotionally attached to their pets.
Changing attitudes towards pet raising: Nowadays, more people regard pets as part of their family, taking care of them like human beings. Pet owners also put strong emphasis on the beauty and wellness of their furry kids. These have opened doors for companies to introduce numerous discretionary pet products and services.
Social media enables start-ups to run pet-related businesses at lower costs: With the rise of social media, the start-up and marketing costs of a pet-related business can be substantially lowered. Entrepreneurs have been able to introduce diverse pet-related services and e-commerce such as pet sitters, pet Airbnb, pet psychic communicators and on-site pet grooming.
Source: South China Morning Post  on 27/02/2018 https://www.scmp.com/property/hong-kong-china/article/2134862/pet-theory-rising-ownership-hong-kong-opens-host-retail
Pet Pet Lianmeng: I don't want pets to be lonely, babysitters have plans
Baby Sitter heard a lot, Pet Sitter heard? It turns out that this profession has become very popular in foreign countries. If the owner needs to leave home for a while, although they can choose to foster pets, some owners feel that it is more comfortable to keep pets in their own homes compared to unfamiliar environments. Viola and Philip, founders of Furrenz Pet Sitters, feel that Hong Kong people often go abroad for business and travel, and there is a need for pet sitters. The pet sitter will be responsible for feeding, changing the water, cleaning up the poop, playing with them, feeding medicines, and sending them to the owner every day, and even burying flowers, receiving letters, and throwing garbage, it must be patient!
Viola herself has been a pet sitter in Canada for many years. She and Philip require their pet sitter to complete the pet first aid course of the Hong Kong Resuscitation Society and they need to have the knowledge about pet care, hoping to serve a group of great emperors. I believe that for those who like pets, pet sitter is a bamboo job. As Viola said, getting along with proud little animals every day makes her full of happiness and positive energy. Being able to become intimate with the guests' pets also makes them quite successful.
Source: Oriental Daily 17/12/2017
http://hk.on.cc/hk/bkn/cnt/lifestyle/20151217/bkn-20151217112921554-1217_00982_001.html
The Enlightenment of the Pet Industry in the United States to the Industry in Hong Kong
 Why Pet Care Is One of the Best Industries for Starting a Business in 2017
The traditional pet industry, valued at $60 billion in the U.S., is getting a makeover. Technological advances make it even easier for local businesses involved in pet sitting, grooming, walking, training, and boarding to reach customers, streamline processes, and scale their operations.
Why it's hot: Forty percent of customers in the pet care industry are ages 30-49. Millennials are aging into this group and getting more pets than previous generations. According to research firm Mintel, three-fourths of American 30-somethings have dogs, compared with half of the overall population. Meanwhile, more than half of Americans in their 30s have cats, compared with 35 percent of the overall population. Millennials with pets also expect to use technology to buy services, providing opportunity for new ventures in e-commerce, subscription packages, and connected devices like pet wearables.
What's required: An affinity for animals is, of course, a must. But you'll also need some behavioral training skills and an ability to market yourself to continue gaining new customers. To integrate technology into your processes, you'll need a level of proficiency in building apps and websites or the ability to work with an expert.
Barriers to entry: Depending on the business, barriers to entry can be quite low. Pet walking and sitting might require very little upfront investment, but boarding, grooming, and training will require capital for facilities, equipment, and health and safety certifications.
The downside: Customer turnover can happen quickly in the pet services industry, and it might take some time to build up a loyal base. The nature of the business might also require long hours and an always-on-call customer service policy. You'll often need to be available on weekends and holidays, when pet owners might be traveling.
Competition: The industry hasn't seen much consolidation apart from a few grooming franchises like Wag N Wash and Best Friend's Choice Whiskers & Paws. When it comes to sitting, boarding, walking, and grooming, the most competition is likely to come from small, independent local players. In the more tech-heavy segments of the industry, startups like pet toy and treat subscription service BarkBox, services platform Rover, direct-to-consumer pet pharmaceutical company Vets First Choice, and smart-collar maker Whistle Labs are some of the dominant companies.
Growth: Pet grooming and boarding revenue was nearly $8 billion in the U.S. in 2016, and IBISWorld projects 7 percent annual growth through 2021. According to CB Insights, between 2012 and 2016, $486 million was invested in the global pet tech sector across 172 venture capital deals. The worldwide pet wearables market alone will be a $2.6 billion market by 2019, market research firm IDTechEx predicts.
Source: Inc. 5000 on 01/03/2017
https://www.inc.com/bartie-scott/best-industries-2017-pet-care.html?cid=land500016-featured-17
[Layoffs and Unemployment] Be a full-time pet sitter, feed and accompany overnight one-on-one
All owners go on a trip and don't worry about their pets. Of course, it is reliable to be taken care of by friends, but there may not be friends who are free and know how to take care of them, or pet hotels are the final choice. However, during peak travel season, pet hotels may not have enough staff to take care of them, and the quality may be affected. Furthermore, it is always an unfamiliar environment, and pets may not be used to being easily startled. As a result, a pet sitter who provides one-to-one service was born, and everyone has more choices to take care of their dogs.
The pet sitter, Ming, is a boy in his early thirties. He has been accustomed to raising pets since he was a child, such as paparazzi, rabbits, ducks, and turtles. He used to work part-time in a pet store, responsible for showering, cutting nails, shearing, brushing, and feeding, etc., and occasionally helping friends to take care of pets, can be described as rich experience. Hence, in 2015, he started a pet custody business with his mother, with his mother as the main force, taking care of an average of three to four pets per week, mainly paparazzi, and occasionally taking care of cats and rabbits for guests. Ming was originally in charge of the operation of the online store at LeTV, but he lost his job due to major layoffs, so he simply worked full-time as a pet sitter.
Pre-home visit to say hello to the paparazzi
Owners who want to find a pet sitter for help can make an appointment a month in advance. After that, Ming will come to your door and make a home visit before you travel. This time it happened that the owner Suki was traveling abroad and wanted to take care of the 1-year-old 3-month-old miniature poodle. Ming came to understand the paparazzi's personality, preferences, diet and street habits before his trip, and the most important thing was to say hello to the paparazzi Mimi, " Home visits let the paparazzi recognize my smell and voice, and when I actually get along with them, it won't be abrupt, knowing that I'm an old friend."
The basic services provided by the pet sitter include feeding, changing the water, cleaning the toilet, and playing with them. They can even leave the dog on the street to help the paparazzi discharge. Sometimes the owner even asks for overnight service. I don't know if something strange will happen at night, and I'm afraid that it won't get used to it, so I will come to stay with it for the night and leave until dawn."
Ming recalled that the reason why he decided to help people take care of pets was due to a friend's sad experience. "My friend left the paparazzi in a pet hotel because of a trip. When he came back, he found that the paparazzi was unhappy and had no appetite, and suddenly left a few days later." He was very suspicious of whether there was an accident in the dog hotel. He tried to go to the pet hotel to reason and investigate, but of course there was no result. He felt very sad and the dog suffered because of neglect. He feels that there is a lot of room for improvement in this industry. The disadvantage of pet hotels is that they must take care of too many pets at the same time. The lack of manpower will affect the quality and easily lead to negligence. In fact, different people should be responsible for different expertise in pet care and focus on pet grooming. Grooming and taking care of pets should be done by professional people who are dedicated and perform their duties, so as to provide the most appropriate services for paparazzi.